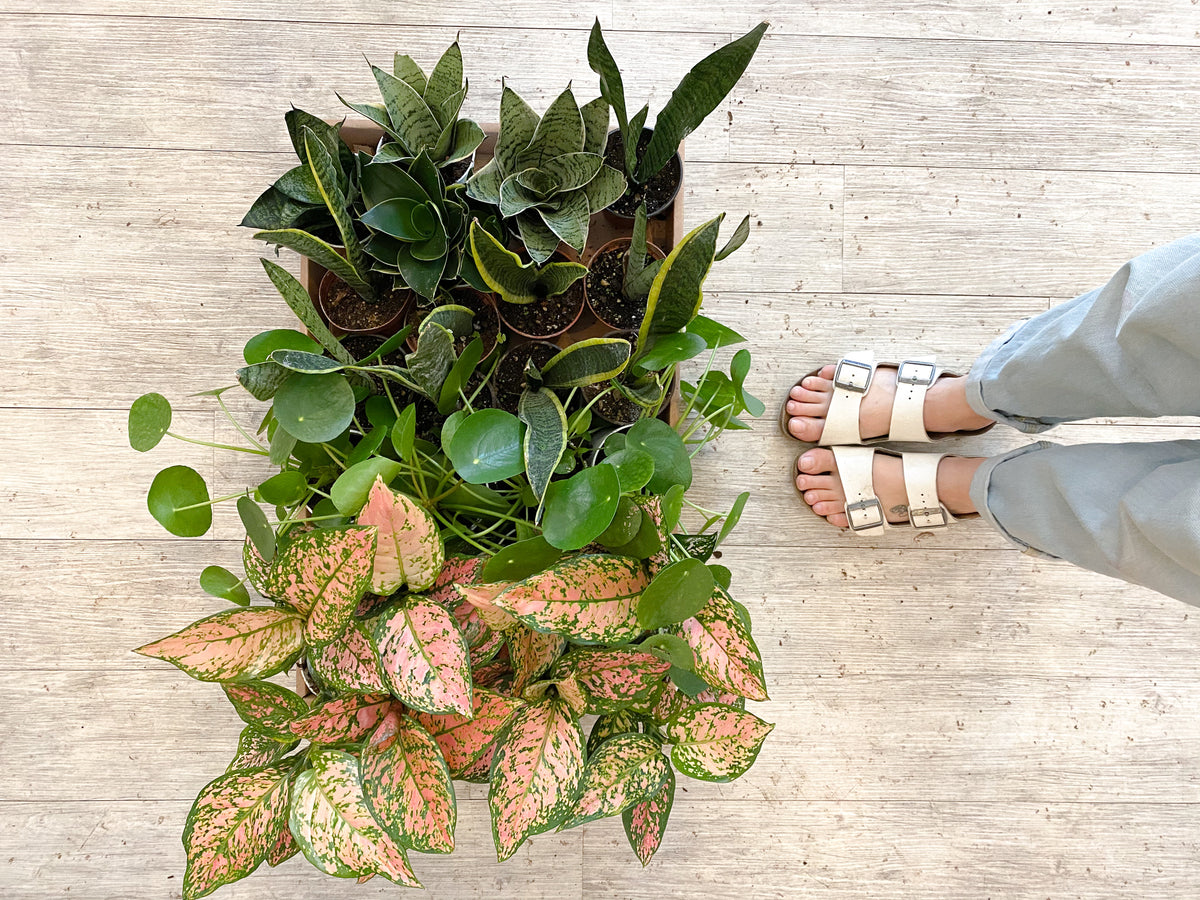 Have a sad plant and not sure why? Check out our common plant mistakes and see if you're making one of them!

Overwatering
Giving your plants too much water is the most common killer of houseplants. We get it - you want to love your babies. However, there is such a thing as too much love. To check if the plant is being overwatered, start with the soil. Is it soggy? Too wet of soil can inhibit the plant's ability to absorb nutrients from the soil. Another soil indicator would be the presence of fungus gnats. They looooove soggy soil and thrive when soil is moist for a long period of time. Don't worry, you can get rid of them with diluted hydrogen peroxide.

Another sign of overwatering would be the lower leaves of the plant drooping and turning yellow. The base of the plant also might turn black or become soggy. If that mushiness occurs, unfortunately there is no saving it.

Underwatering
A thirsty plant has some tell tale signs as well. The tips of the plant will get brown and crispy. For some plants, the leaves will curl in to try and conserve energy. This can happen in the hotter months especially where a plant needs more water to survive.

Too Much Light
Finding the correct amount of light for a plant can be a tricky job. Even if a space seems incredibly bright to you, it might not be the best quality of light for your plant. A sure sign that a plant is getting too much light would be burning, or crisp brown spots, all over the leaves, not just on the tips. Additionally, if your plant is losing leaves from the top, it may be too bright. Also consider that very bright light vs. direct sunlight can make a difference for a plant.

Not Enough Light
As much as we need the splash of green in a dark room, sometimes it is not best for the plant. Plants need light to grow. A windowless room will almost never be an ideal situation for a plant to flourish and thrive. A plant without enough light will try to grow towards the light, stretching their stems and leaves in odd angles in order to reach it. They will also lose leaves on their bottoms or backsides, for there is just not enough light to keep them well fed. Remember, light is food to plants!

Wrong Vessel
Every species of plant have their own root space preference. For example, Monsteras love being hugged in tight pots, whereas anthuriums like to give their roots space. Do your research on the plant you are bringing home to ensure you have the correct size pot. 
 
The vessel material is also important to consider. A plant who enjoys drier soil (succulents, aloe, etc.) will enjoy a terracotta or clay pot, where it wicks moisture away. Plants who enjoy more moist soil might benefit from a ceramic or fiberglass pot.

The most important part of a vessel choice is drainage. Drainage holes at the bottom of pots ensure the soil doesn't absorb too much water and can dry out between waterings. Pots without drainage holes should have 1" of rocks at the bottom so the water can completely drain from the soil. Although the rock trick is ok for drier plants, like succulents and cacti, it is not recommended for plants who are prone to root rot, like the monstera and ZZ plant.

If you fall in love with a pot without a hole, but your ideal plant doesn't vibe with excess water, leave the plant in it's nursery plastic container when you purchase it, and simply lift it out of the decorative pot when watering, being sure to let it to drain before putting it back in.

Wrong Potting Mix
Just like with pots, each plant has individual potting mix needs. Never use soil straight from your garden for an indoor plant, as it likely has natural fungi that will harm a potted plant. If you have a heavy soil but a plant that likes to be well-drained, add peat moss to lighten the mixture. At Wildflora, we use Palm, Cactus, and Citrus soil for most of our potted plants.
These are the issues we commonly see with our clients. If you have any questions, feel free to reach out to our Wildflora Team!