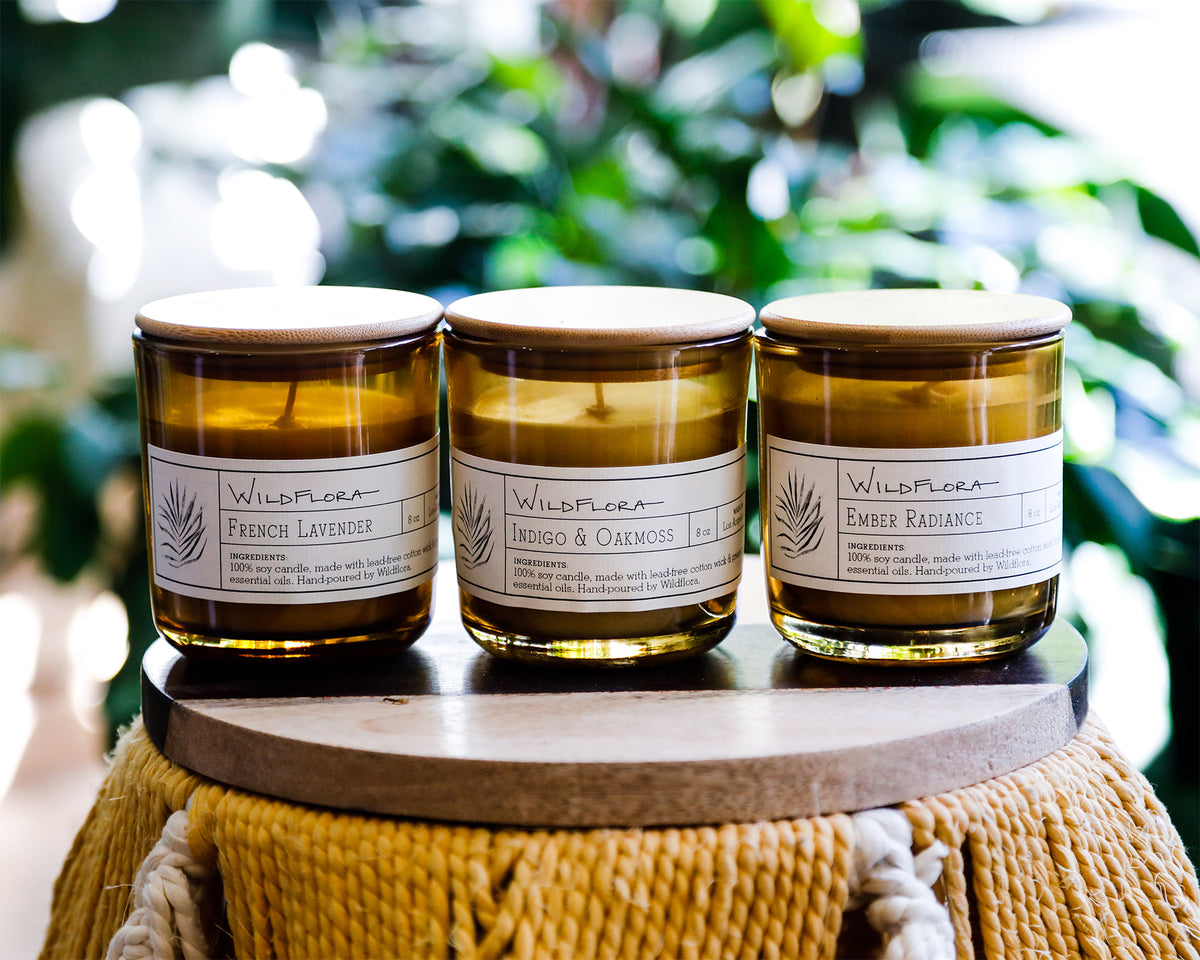 At least once a week someone walks into our shop and asks, "What smells so good?!" The honest answer: a blend of everything.
I know, we wish we could bottle up the WildFlora shop scent as well, but the good news is our candles are a big part of that glorious smell, so you can take a portion of the bliss home with you. Our collection includes the following:
AMBER: Sweet, sultry, and sensual, our perfectly crafted Amber scent is something you'll want lit in your home year-round.
EMBER RADIANCE: Somehow both smoky and sweet, Ember Radiance perfectly encapsulates the feeling of being curled up by a fire in a luxurious ski lodge.
EUCALYPTUS MINT: The name speaks for itself! Envelop your space in the calming and relaxing scent of sticky eucalyptus and sweet peppermint.
FRENCH LAVENDER: This beautiful candle will instantly transport you to the enchanting lavender fields of your dreams.
INDIGO & OAKMOSS: This rich fragrance is both beautifully feminine and masculine.  A woodsy undertone supports the amber top fragrance making it enticing to all noses.
SAPPHIRE & PLUM: Want dark and enigmatic? Look no further than Sapphire & Plum. This scent has hints of amber, vanilla, and mystery.
ROSEMARY: For centuries, apothecaries have used the earthy and brisk scent of rosemary to enhance moods. The green blend of rosemary, sage, and pine will transform any room into your very own herb garden.
SCARLET GINGER: Ginger, spice, and everything nice! This scent has zesty top notes of pepper and ginger. Stick around and you'll find warm undertones of earthy, soothing vetiver and musk. Perfect for a sweater weather day.