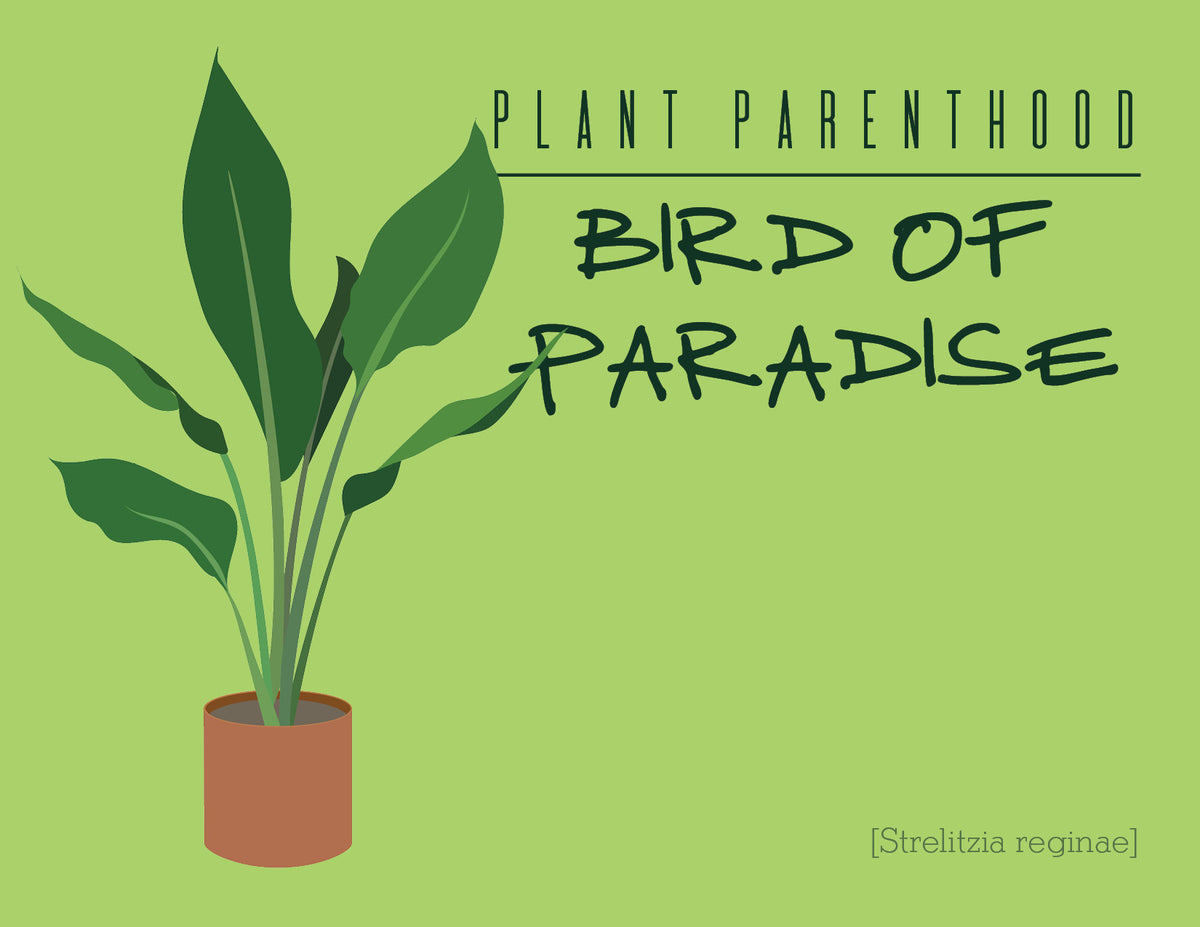 Bird of Paradise, or as we call them in the shop, BOPs, are great houseplants for beginners. And if you like a plant that puts on a show, it's exciting when the new leaves unfurl over a day or two. They also provide great vertical interest since they can grow pretty tall. 
While these guys will flower in nature, it's uncommon for them to bloom inside unless they're getting 4-6 hours of full sunlight every day. However, if you've got the sun thing nailed and you're determined to step up to the challenge of getting some of these incredible flowers, it's recommended to avoid repotting your BOP too often. When they have lots of room to grow, they focus their energy on expanding and putting out new leaves. When they feel settled in their pot, ever-so-slightly root bound, they decide to put out pups in hopes of spreading their seed instead of their roots.
It also takes patience. They can go years before putting out their first bloom. But if you get sick of waiting, we *sometimes* have Bird of Paradise flowers in our arrangements, soooo you could also just call and order some blooms to get your fill while you're waiting.
Alternatively, you can also plant them outside here in SoCal (plant zone 10). There's a really gorgeous cultivar, Strelitzia nicolai, that has white and blue flowers.
When it comes to watering, these guys can handle quite a range of human caretakers. Sometimes I'll go a couple weeks, forgetting about my plant. Other weeks, when I'm trying to be a good human and be more hydrated, I'll end up with lots of unfinished cups of water in my room, which I then pour on my BOP. And he just deals, looking good all the while (though he tends to give new leaves when he's getting more water).
These giant, tropical leaves can also benefit from regular dusting and a misting, especially in dryer months.