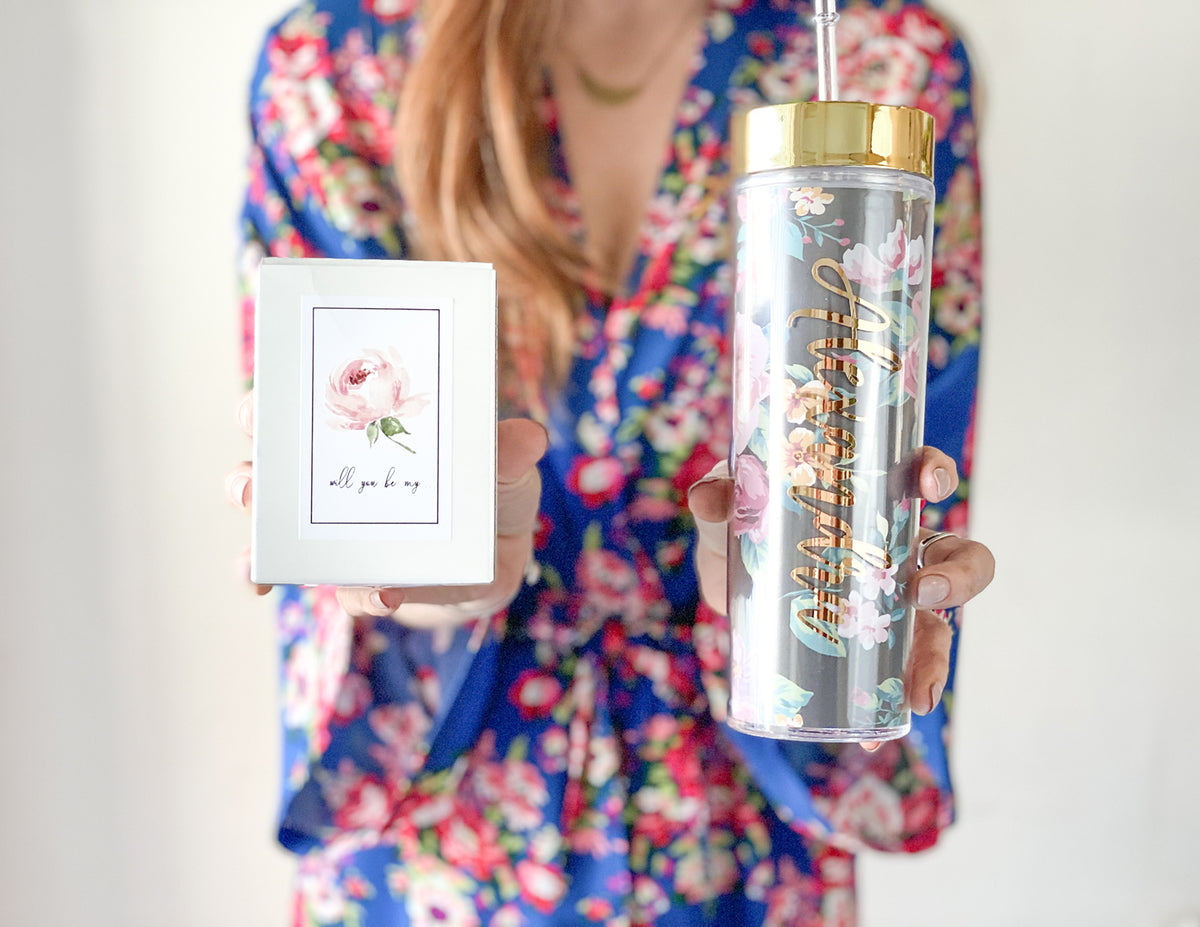 Being in the flower business, we encounter many couples eager to plan their wedding, and we love to assist with any planning/advice they may need, including bridal party gifts! We always turn to Bridesmaid Gifts Boutique & Groovy Groomsmen Gifts. They have a solid amount of options to help you ask your people to be next to you on your big day, and they sent some of those to us to share with all y'all! 
I went with a custom Tumblr Gift box set because I love flowers (crazy, I know) and the floral print on both the tumbler and robe is beautiful. I had a little trouble choosing my floral print color because they're all so striking, but eventually went with blue.
Also, because I'm a sucker for a hot bath, I snagged some petals from work and put together a complete floral bath using the bath bomb they sent (and of course I got to test out my robe before/after). I'm not too much of a glitter fan but with all of the rose petals floating around, it was pretty undeniable that the little accent of glitter on the bath bomb was a fun touch...and I may have filled my tumbler with wine ;) ...which got me thinking: the bath bombs would be adorable reception favors as well! Picture every guest table with a flower centerpiece (from yours truly, obvi) and a bath bomb at each place setting - that's my kind of wedding!
Everything was packaged perfectly and having "Alexandra" on my items added a really nice personal touch. Speaking of personalized, I also got to try the Fast Track Rucksack from the groomsmen gift options, which I love. When I opened the box and initially touched the bag, I immediately could tell that the fabric was sturdy and supportive. It's perfectly crafted to hold all sorts of goodies, and it's already been put to good use when I travel to do on-site florals. Not only can I hold all of my tools and necessities but my "AJS" initials make it extra cute and personalized.
Honestly, this bag is perfect for camping, weekend trips, or even just for work + school - just a great everyday bag - you can't go wrong!
We love having a list of preferred vendors to share with our brides and grooms, so enjoy! Additionally, If you're looking for fun wedding reception table favors that your guests will love, check out Forever Wedding Favors.  This online store has a wide variety of small gifts that will fit perfectly with any wedding theme and style.