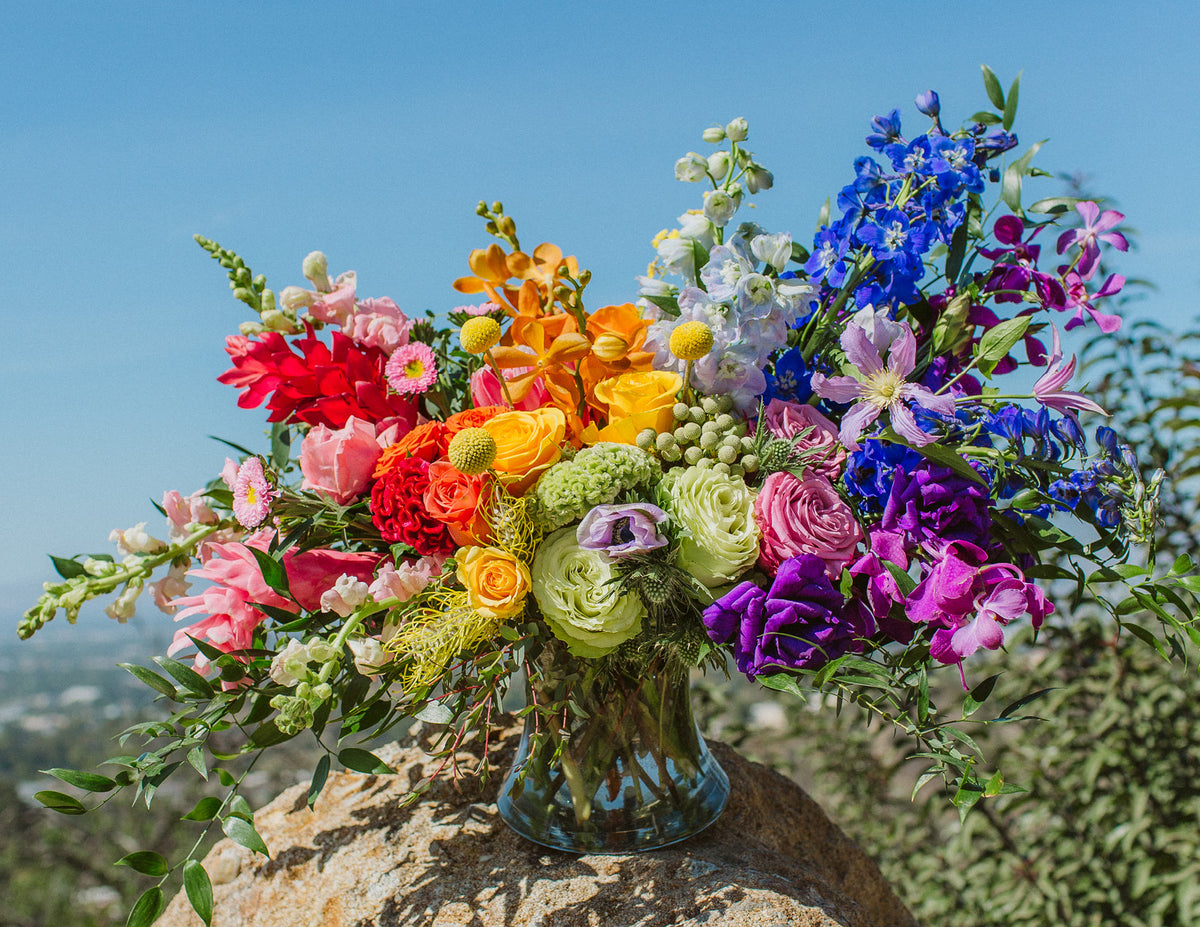 WildFlora was born out of a love of nature and Mother Earth herself, so we enjoy finding opportunities to make better choices for the environment. Here are some of the ways in which we try to keep the earth in mind:
Candle Refill Club
There's no dancing around it - our candles are addicting. But, knowing this, we want to help you avoid a bunch of extra candle jars going in the rubbish bin, so we started the candle refill club. Starting January 1st, just bring in your empty candle jars, tell us which scent you want, we refill it, then you pick it up the following week. Easy peasy.
Stay Wild Tumbler Refill Club
Same as the Candle Refill Club, but flowers for your Stay Wild Glass Tumbler instead! 
No Floral Foam
That's right. The green, foamy, plastic-made blocks are convenient, but they're toxic for humans and animals, and they're not biodegradable or recyclable. Therefore, when we need to brace large flower arrangements, we instead use chicken wire or Agra Wool. 
Bouquet Wrapping
Our bouquets are wrapped in kraft paper instead of the plastic that many florist and grocery stores use.

Reusable Boxes
Our shippable boxes are the perfect magnetic-closing keepsake box and can be reused over and over again. Put photos in it. Put craft supplies in it. Hell, you can put really any dry thing in it - t'will look cute on your shelf regardless.

Compostable Packaging
Our Facial Steam packaging as well as our shipping boxes and tissue paper are perfect for your home compost. The shipping tape is a water-activated tape, meaning the starch-based sealant easily dissolves and separates from the box so it can be recycled or composted. Still needing a compost bin? Here are some of the best compost bins of 2021.
Recycled Shopping Bags
When choosing our Shopping Bags, we spent a little extra to get the non-laminated kraft paper bags, created from 40% post consumer recycled content, and fully recyclable. 

Avoiding Plastics
We choose glass for our bath salts and candles to avoid more plastics in the world. While more expensive, glass jars don't off-gas the way plastics do, and they are more likely to be recycled and find themselves somewhere other than a landfill.
Reusing Vendor Shipping Materials
When we get loads of succulents, they come from the growers in plastic trays. We like to return these and other planting containers to our vendors so they can reuse them over and over again. Additionally, we save the bubble wrap that comes when ordering products, and later use it when shipping our own WildFlora goods. 

Designing Seasonally 
If you've ordered flowers from us, you know that they always come with the caveat that they might not look exactly like the photo online because we design with what's available. While you may be disappointed that your winter bouquet is missing your favorite summertime peony, rest assured that our designers have a knack for making beautiful arrangements and finding inspiration in all seasons.
Selecting Vendors
When vetting new vendors for projects, we like to do a little extra digging. For instance, maybe we find a product we like for a decent price, but if they have a blog where they talk about how global warming is a hoax (yes - that happened), then we'll pass. 
While it's difficult to make every single part of owning a small business "green," we do our best to seek out environmentally-friendly options for the budget we have and be transparent about those choices. With each year, as our company blooms, we've been able to upgrade to greener options, and we have you, our loyal customers, to thank for that! Teamwork makes the dream work. The dream of a less sad planet, in this specific situation.