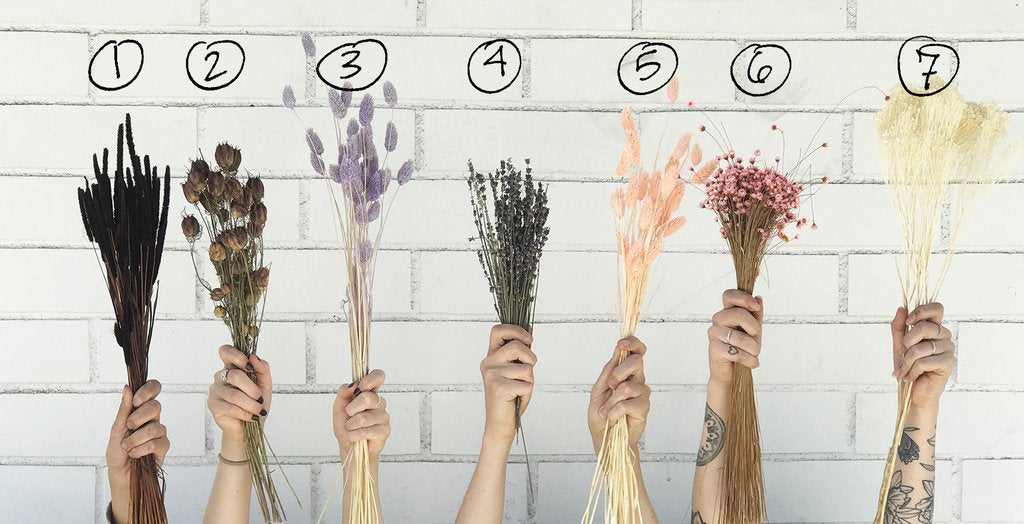 Like a fine wine, some flowers only get better with time! Dried flowers are a great way to keep florals in your home for an extended stay. With a wide array of textures, colors and shapes, you can mix and match to complement any style. It's a timeless design element - dried flowers were even discovered in ancient Egyptian tombs from 4000 year ago - that's staying power!
Aside from bouquets, we also think they look great when woven into seasonal wreaths, hanging out in a vase,  or even when garnishing a gift. Below are some of our favorites here at Wildflora.
1. Black Grass  2. Nigella Pods 3. Globe Amaranth  4. Lavender 5. Globe Amaranth 6. Star Flower  7. Baby's Breath 8. Star Flower 9. Nigella Pods  10. Flax 11. Scabiosa Pods 12. Button Flower 13. Baby's Breath  14. Black Grass 15. Star Flower
Some additional dried flowers & stems we often carry include Bunny Tails, Straw Flowers, Blue Globe Thistle, Billy Balls, Wheat, Pampas Grass, Eucalyptus, Palm Fans, and Italian Ruscus.
Want to integrate dried flowers into an order? Just give us a call or shoot us a message, and we can work to make something beautiful for you! Or, if you're feeling crafty, stop by our shop to pick out your own stems from our Dried Flower Bar.