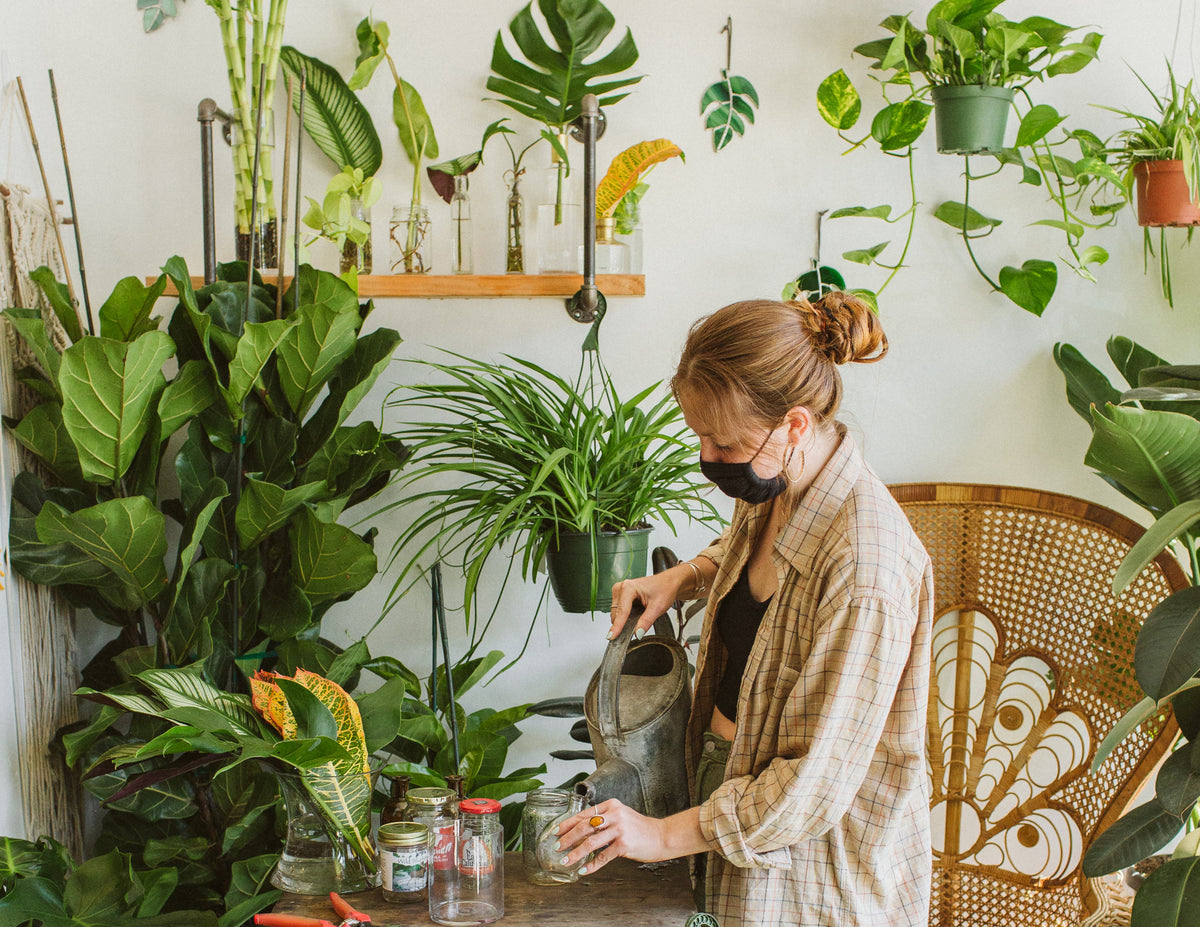 Perhaps you'll remember one of our very first blogs on plant propagation (click here if you need a refresher), but today we wanted to talk about the lovely containers one can use to grow the plant family.
THRIFTING GLASSWARE
Before running to the store to buy new glassware, we suggest visiting your local thrift store. Not only can you find an incredible variety, it's also cheaper and better for the environment.
REUSING GLASSWARE
Have an extra spaghetti sauce container, Topo Chico bottle, or (in our case) olive jar hanging out in your recycling? Go fetch that gem, remove the label, and add it to the propagation station!

Some helpful methods for removing difficult labels includes:
hair dryer to heat the glue
soak in soapy dish water or vinegar for 10 minutes  
nail polish remover
goo gone

MIX & MATCH
For our propagation station, we liked the clear glass look, but you can also bring color into the mix if that's more your jam. Painting glassware is a fun way to tie different shapes together, and if you want a more textured finish, all you have to do is add a little baking soda to the paint.
FILL 'EM UP
Now that you have your bottle collection, it's time to go snipping around. Keep in mind that taller bottles will look best for plants with long stems or roots. If you only have shorter glasses, but want to include a cutting from a plant with a heavier leaf, consider putting it in a container with a tapered top, to stop the top-heavy foliage from slipping up and toppling out of the container.
ALTERNATIVELY...
If propagating plant babies sounds like a bit of a commitment or your plants aren't big enough yet to give a cutting, purchasing a couple tropical leaves/fronds from WildFlora is a fun, bold alternative. Don't tell the flowers we said this, but one of the reasons we love foliage so much is because they outlast flowers in a vase. While you can get a week our of an arrangement with diligent care and water changes, some leaf cuttings can last up to 6 weeks in water!
SHARE THEM!
A plant propagation exchange is free, plus it's a fun excuse to see your friends (while masked up of course). Reach out to the other botanical-loving people in your life, and meet in someone's back yard or the park to share and exchange different plant babies.